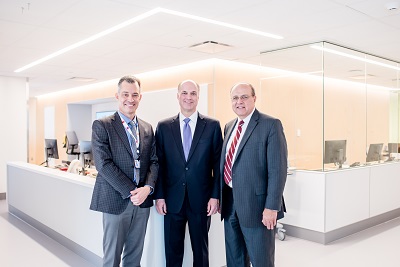 Camden, Maine, December 12, 2019 – Camden National Bank announced a $250,000 commitment to Maine Medical Center to provide funding for its master facilities modernization project, a patient-focused initiative that will enable the state's largest hospital to meet the most urgent healthcare needs well into the future. The donation comes five months after Camden National Bank announced a $250,000 commitment to Pen Bay Medical Center to provide early funding for the construction of a new 41,513-square-foot health center at the hospital's campus in Rockport.
"We're passionate about supporting Maine Medical Center's work and vision to create long-term health and wellness in Maine communities," said Camden National Bank's President & CEO, Greg Dufour, who attended last week's ribbon cutting ceremony for the new Coulombe Family Tower at Maine Medical Center in Portland.
"Our employees, customers, and communities will benefit greatly from the expanded and modernized facilities at Pen Bay Medical Center and Maine Medical Center, delivering state-of-the-art care to improve and save lives," added Dufour.
The $534 million facilities modernization project at Maine Medical Center will create 128 new private patient rooms, add 19 procedure rooms for surgeries and other complex treatments, provide an additional 225 spaces for patient and visitor parking, and consolidate MMC employee parking into one nearby garage that will meet current demand and future growth.
The project will also open Maine Medical Center to Congress Street with a new building and entrance that is expected to dramatically enhance a major gateway to the city and provide for expanded ambulatory practice facilities. It will create modern, state-of-the-art practice space allowing MMC and Maine Medical Partners to further develop its ambulatory care practices in Scarborough, convenient and easily accessible for patients and their families.
"As we have come together as one, putting the strength of our entire system behind the care we offer in each community we serve, Camden National Bank has been a steadfast partner," said Bill Caron, CEO of MaineHealth, the parent of both Maine Medical Center and Pen Bay Medical Center. "This support for our flagship tertiary care center and the new facilities we are building to support our mission at Pen Bay Medical Center is an investment in a system of integrated care that will benefit all 1.1 million patients in the MaineHealth service area."
About Camden National Corporation
Camden National Corporation (NASDAQ:CAC) is the largest publicly traded bank holding company in Northern New England with $4.5 billion in assets and nearly 650 employees. Camden National Bank, its subsidiary, is a full-service community bank founded in 1875 in Camden, Maine. Dedicated to customers at every stage of their financial journey, the bank offers the latest in digital banking, complemented by personalized service with 61 banking centers, 24/7 live phone support, 71 ATMs, and lending offices in New Hampshire and Massachusetts. For the past two years, Camden National Bank was named "Customer Experience Leader in U.S. Retail Banking" by Greenwich Associates, and in 2019, it was the only New England based organization included in Sandler O'Neill's "Bank & Thrift Sm-All Star" list of high-performing financial institutions. The Finance Authority of Maine has awarded Camden National Bank as "Lender at Work for Maine" for ten years. Comprehensive wealth management, investment, and financial planning services are delivered by Camden National Wealth Management. To learn more, visit CamdenNational.com. Member FDIC.