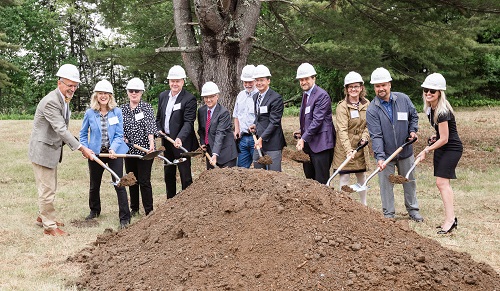 Camden, Maine, July 11, 2019 – Camden National Bank announced a $250,000 commitment to Pen Bay Medical Center to provide early funding for the construction of a new 41,513-square-foot health center at the hospital's campus in Rockport. Hospital and bank staff, trustees and community members gathered at the groundbreaking ceremony to celebrate the start of the project.
"We are proud to make a  significant investment in Pen Bay Medical Center's planned expansion, improving medical services for the Midcoast region, where many of our employees, customers, shareholders and community partners live," said Greg Dufour, President and CEO of Camden National Bank. "We believe it's our shared responsibility to continue investing in vital, healthy communities for all, and we look forward to seeing this important project come to life."
Construction on the new, two-story building begins this month, and it will be ready for occupancy in late summer 2020. The facility will help Pen Bay Medical Center meet the healthcare needs of a growing population in Midcoast Maine.  
The new Health Center will be a two story stand-alone building with the main entrance on Anchor Drive. In addition to a community room, the first floor will house the pediatrics, audiology and speech pathology, and ear, nose and throat practices, as well as pediatric physical and occupational therapy.
The Health Center will also provide space where specialists from the Barbara Bush Children's Hospital at Maine Medical Center in Portland can meet with patients in Rockport, reducing the need for children with special health needs to travel to Portland. The second floor will house the internal medicine, family medicine and psychiatry practices, as well as the Integrated Medicated Assisted Treatment (IMAT) practice for treating opioid use disorder.
"We thank Camden National Bank for this major gift and for the outstanding leadership the bank and its employees continue to bring to our coastal communities," said Mark Fourre, MD, president of Pen Bay Medical Center and Waldo County General Hospital. "This gift allows us to break ground on a new health center ahead of schedule; however, it's about so much more than bricks and mortar. It's about making a difference. This gift will improve the lives of our families, friends and neighbors by helping us to better respond to their healthcare needs."
About Camden National Corporation
Camden National Corporation (NASDAQ:CAC), headquartered in Camden, Maine, is the largest publicly traded bank holding company in Northern New England with $4.4 billion in assets and nearly 650 employees. Camden National Bank, its subsidiary, is a full-service community bank founded in 1875 that offers an array of consumer and business financial products and services, accompanied by the latest in digital banking technology to empower customers to bank the way they want. The Bank provides personalized service through a network of 60 banking centers, 71 ATMs, and lending offices in New Hampshire and Massachusetts, all complemented by 24/7 live phone support. Camden National Bank has received nine "Lender at Work for Maine" Awards from the Finance Authority of Maine, and Greenwich Associates named the bank a Customer Experience Leader in U.S. Retail Banking. Comprehensive wealth management, investment and financial planning services are delivered by Camden National Wealth Management. To learn more, visit CamdenNational.com. Member FDIC.