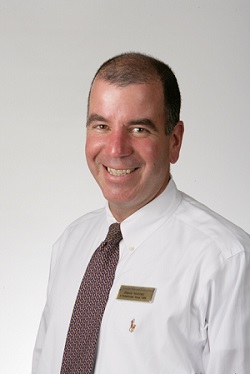 Camden, Maine, September 13, 2018 – Stephen Matteo has been promoted to Senior Vice President, Commercial Market Manager at Camden National Bank. In his new role, he will lead commercial banking business efforts in Midcoast Maine, and he will be instrumental in developing long-lasting partnerships with the Bank's existing and future business customers.
"We are very proud of Steve's many accomplishments at Camden National Bank," said Tim Nightingale, Executive Vice President, Senior Lending Officer. "For nearly 20 years he has grown his professional career at Camden National Bank. He is a strong leader and a trusted banker, and he has a proven track record of helping Midcoast businesses thrive."
Matteo has over 28 years of experience in banking, and he has been with Camden National Bank for the past 19 years. In 1999, he helped establish the Bank's policies and procedures for commercial underwriting, and he hired and trained the credit analysts who help commercial lenders underwrite loan transactions. In 2009, he received Camden National Bank's Commitment to Core Values award, and in 2013, he transitioned to commercial lending. Prior to joining Camden National Bank, Matteo held positions at several Connecticut-based banks.
Matteo is actively involved in the Midcoast community, and he currently serves on the Community & Economic Development Advisory Committee for the Town of Camden. He is also a board director for the Penobscot Bay Chamber of Commerce.
About Camden National Corporation
Camden National Corporation (NASDAQ:CAC), headquartered in Camden, Maine, is the largest publicly traded bank holding company in Northern New England with $4.2 billion in assets and nearly 650 employees. Camden National Bank, its subsidiary, is a full-service community bank founded in 1875 that offers an array of consumer and business financial products and services, accompanied by the latest in digital banking technology to empower customers to bank the way they want. The Bank provides personalized service through a network of 60 banking centers, 71 ATMs, and lending offices in New Hampshire and Massachusetts, all complemented by 24/7 live phone support. 2017 marks the 8th time Camden National Bank has received the "Lender at Work for Maine" Award from the Finance Authority of Maine. Comprehensive wealth management, investment and financial planning services are delivered by Camden National Wealth Management. To learn more, visit CamdenNational.com. Member FDIC.