Camden, Maine, November 20, 2023 – The Finance Authority of Maine (FAME) presented Camden National Bank with the "Lender at Work for Maine" award at its 40th Anniversary Celebration. This marks the thirteenth time Camden National Bank has been awarded this distinction for assisting small businesses with support and capital as they play a critical role in fueling the economy and providing jobs and services to communities.
The Lender at Work for Maine award recognizes banks for their outstanding commitment to supporting Maine businesses and jobs. Over the last year, Camden National Bank partnered with FAME on 68 small business loans for more than $32 million, which helped create 115 Maine jobs and retain an additional 884 jobs.
"Maine is our home, and as a community bank, we will forever be committed to supporting local businesses, the creation and retention of Maine jobs, and building a vibrant economy," said Ryan Smith, executive vice president of commercial banking. "We are incredibly fortunate to live and work in this state, and we are honored to be recognized as a company that helps Maine businesses continue to succeed."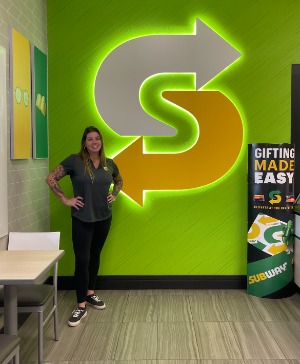 One loan recipient through FAME and Camden National Bank is Melissa Karkos, the sole owner of MAG LLC. The Rome, Maine, resident purchased her first Subway restaurant in 2016 and soon added two more locations. At the end of 2021, Karkos approached Camden National Bank to assist with the purchase of three new locations. In early 2022, she completed the financing of six loans with the bank: four to secure the purchase of the three new stores (one location also involved real estate) and two more to refinance loans previously provided by another institution. In 2023, Camden National Bank worked with Karkos on two additional FAME loans to assist with updates and renovations for two of the Subway restaurants.
"I'm so lucky to call the Finance Authority of Maine and Camden National Bank my business partners," Karkos said. "They've had my back while I've expanded to better serve communities across the state."
FAME is a quasi-independent state agency that provides financial solutions to help Mainers achieve their business and higher education goals. FAME helps create a Maine workforce with good-paying jobs by focusing on the nexus of economic and educational development.
About Camden National Corporation
Camden National Corporation (NASDAQ: CAC) is the largest publicly traded bank holding company in Northern New England with $5.8 billion in assets and was proudly listed as one of the Best Places to Work in Maine, for the past three years. Founded in 1875, Camden National Bank is a full-service community bank dedicated to customers at every stage of their financial journey. With 24/7 live phone support, 57 banking centers, and additional lending offices in New Hampshire and Massachusetts, Camden National Bank offers the latest in digital banking, complemented by award-winning, personalized service. To learn more, visit CamdenNational.bank. Member FDIC. Equal Housing Lender.

Comprehensive wealth management, investment, and financial planning services are delivered by Camden National Wealth Management.