November 22, 2022, Rockport, ME: Midcoast Recreation Center (MRC) is proud to partner with Camden National Bank as a sponsor for MRC's 6U Youth Hockey program for the 10th year, working together to help keep youth hockey available and affordable for families in the midcoast area.
"Hockey is a sport for everyone and it's difficult when the financial stress of playing the sport prevents kids from pursuing their passion for the game," said Greg Dufour, president and chief executive officer of Camden National Bank. "We're so grateful to partner, for the 10th year, with the Midcoast Recreation Center, as we've seen how sports can create new opportunities, build networks of structure and support, and ultimately help drive positive social change."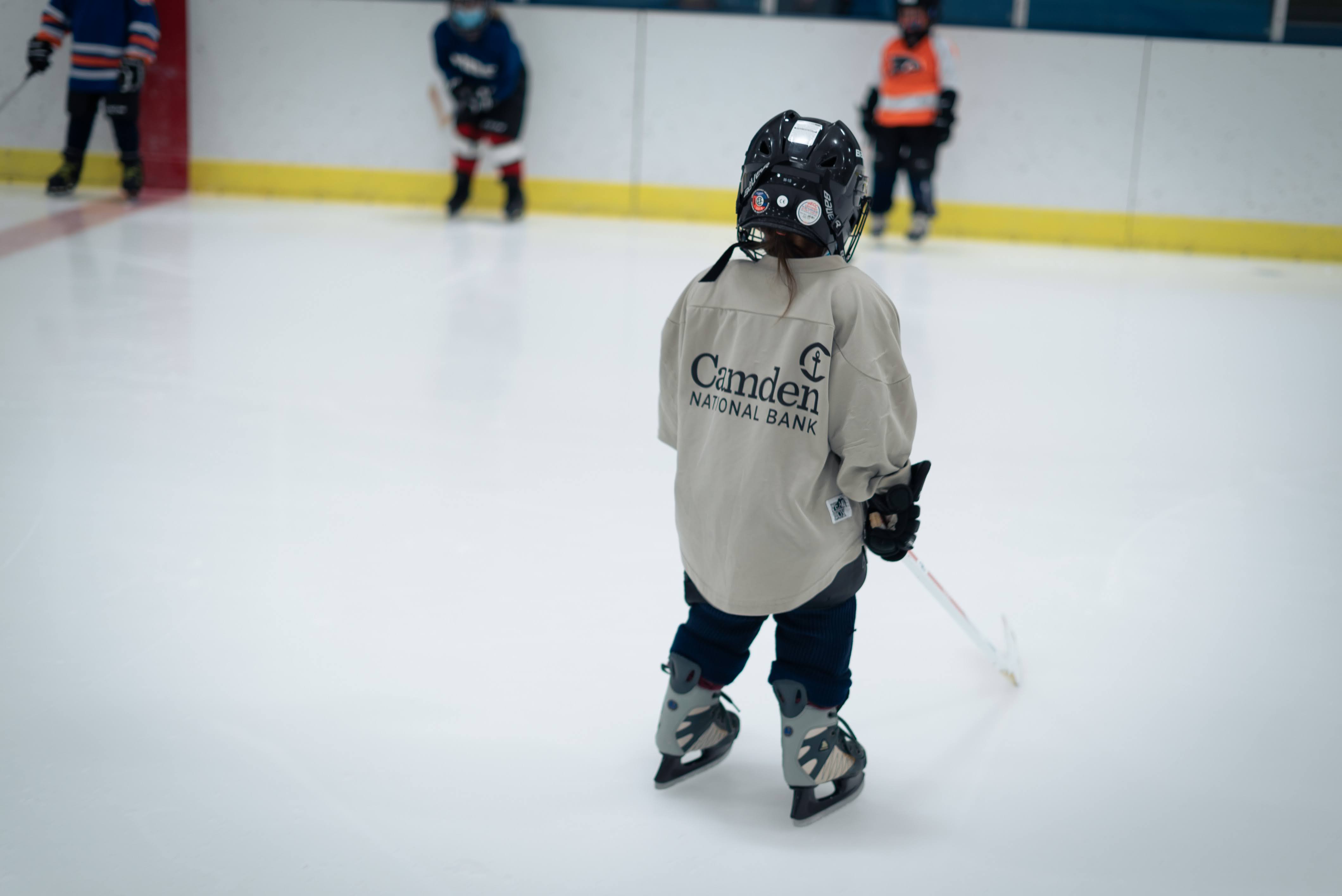 "Skating builds great physical literacy skills that every kid benefits from and kids starting out at 5 and 6 years old are in a perfect position to learn those skills quickly and have a great time doing it," said Jesse Simko, Arena Director and Director of the Learn to Play Hockey programs at MRC. "We love teaching the kids Fun-damentals of skating and playing hockey through an emergent curriculum and game-based approach. It's really amazing to see how much progress is made in a month."
MRC is focused on building stronger communities in their area and making sure no child is excluded due to their inability to afford any program. MRC's 6 and under hockey program is free for the first month to all who wish to participate each year, and all necessary gear is provided for each child; this includes skates, helmets, pads, and sticks. All of this is made possible through the generous support of Camden National Bank.
Craig Wilson, executive director of Midcoast Recreation Center, said, "This program would not exist without as strong a community partner such as Camden National Bank. For a decade Camden National Bank has sponsored this program and helped over a thousand boys and girls learn how to skate, play hockey, and develop an appreciation of skating as a part of a healthy lifestyle. MRC is greatly appreciative of the multi-year support Camden National Bank has given."
In addition to their low-cost programs and provided gear, MRC also offers financial assistance to anyone taking part in any of their programs throughout the whole facility. Financial aid applications are available either on their website, www.midcoastrec.org, or by stopping at their front desk.