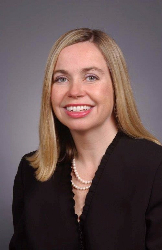 Portland, Maine – April 5, 2016 – Gregory A. Dufour, president and chief executive officer of Camden National Corporation, is pleased to announce that Mary Beth (Boland) Haut, CFP®, has been named president and chief executive officer of Acadia Trust, N.A., Camden National Corporation's wealth management subsidiary. She will be based at Acadia Trust's Portland offices, located at 5 Milk Street, and will lead all of its investment and trust services throughout Maine and New England.
"Mary Beth brings a strong history of experience in comprehensive wealth management, corporate leadership, and financial services with prominent financial institutions in northern New England and her skills align perfectly with what we were looking for in Acadia Trust's next leader," said Dufour. "With ties to Maine as well as a deep understanding of the industry, she is uniquely qualified to serve the company's existing client base and work strategically to help guide it into the future."
Haut joins Acadia Trust from Citizens Private Bank, the private banking division of Citizens Bank, where she served as senior vice president and market executive for the state of Massachusetts. Prior to that, she served as the senior vice president and division executive of the company's wealth management arm. Her additional experience includes senior-level wealth management roles at FleetBoston and Bank Boston (now Bank of America).
"I am honored to have the opportunity to work with the talented Acadia Trust team and support our clients in achieving their investment, planning and wealth management objectives," said Haut.
Throughout her career, Haut has been in client-facing roles and focused on developing and enhancing relationships. "For me, it's people first," she added. "Connecting with and caring about people is the key to creating positive, enduring relationships with wealth management clients and colleagues."
A Certified Financial Planner®, Haut received her bachelor's degree from Colby College in Waterville, Maine. She and her husband Tom have two children, Catherine and Thomas.
"Maine has always held a special place in my life and is dear to my whole family," added Haut. "From family hiking and skiing adventures to my college days in Waterville, the state has long been a part of who I am. It feels very natural to make this transition and join the Acadia Trust team. I am delighted to make Portland my new home, and look forward to connecting with clients in all of the Acadia Trust and Camden National markets."
About Acadia Trust, N.A.
Acadia Trust, N.A. provides comprehensive wealth management, investment management and trust services to individual and institutional clients. From its offices in Portland, Bangor, and Ellsworth, Acadia Trust serves clients throughout Maine and New England. Acadia Trust is a federally chartered trust company and a subsidiary of Camden National Corporation. Headquartered in Camden, Maine, Camden National Corporation has $3.7 billion in assets and is the largest publicly traded bank holding company in Northern New England (NASDAQ: CAC).
####