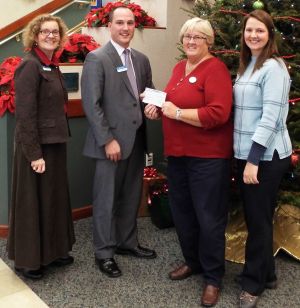 CAMDEN, Maine – February 2, 2016 – For the third year in a row, Camden National Bank has renewed its commitment to supporting local youth in Maine through its partnership with Big Brothers Big Sisters of Mid-Maine and its sponsorship and involvement with the nonprofit's annual Bowl For Kids' Sake fundraiser. The Bank will once again be a lead sponsor for the spring event and will coordinate local participation with employee-driven bowling teams throughout the five regional locations – Penobscot County, the Midcoast, Kennebec and Somerset Counties, and this year, Androscoggin, Oxford and Franklin Counties.
"We are so excited to have Camden National Bank as one of our lead sponsors again this year," said Alex Gaeth, CEO, Big Brothers Big Sisters of Mid-Maine. "The Bank's support every year, through both their sponsorship and the commitment of their employees, is an incredible asset to our event, our organization, and to the young children we serve each year. We can't thank them enough for their dedication, compassion, and commitment to helping us make a difference in these young lives,"
Each year, Bowl For Kids' Sake is responsible for raising approximately 40 percent of the agency's operating revenues and supporting Big/Little matches in Knox, Lincoln, Waldo, Penobscot, Kennebec and Somerset Counties. In 2015, Camden National Bank joined other businesses and local communities in helping Big Brothers Big Sisters of Mid-Maine host the most successful event in the organization's 37-year history, changing the lives of 787 children across six counties by partnering them with caring, responsible mentors who help them deal with their challenges, avoid risky behavior, and teach them how to make better decisions. Apart from its role as sponsor, the Bank's employees organized close to 30 teams throughout Penobscot County, the Midcoast, and Kennebec Valley, and raised over $14,000 to support Big Brothers Big Sisters of Mid-Maine.
"The enthusiasm that Camden National Bank brings to the event is contagious and inspires everyone," said Cathy Hardy, Development Director of Big Brothers Big Sisters of Mid-Maine. "Their partnership and participation are the key reasons that our event last year was the largest in our agency's history, and their ongoing support will allow us to grow to serve 1,000 children annually."
Added Nate Cotnoir, a commercial banking officer with Camden National Bank who volunteers with Big Brothers Big Sisters and drives the company's Bowl For Kids' Sake participation in the Kennebec Valley each year, "Everyone is always very excited to support this great cause and we love being a part of it every year. Not only do we get to have a lot of fun, but we get to raise money for a wonderful organization and support the kids in the communities we serve. That feels great!"
The 2016 Bowl For Kids' Sake events will kick off at the end of March and will continue through the middle of May. Teams are starting to sign up now, and individuals or other businesses interested in participating or learning more about becoming a mentor in their area can visit http://www.bbbsmidmaine.org for more information.
About Camden National Bank
Camden National Corporation is the holding company of Camden National Bank and Acadia Trust, N.A. Headquartered in Camden, Maine, Camden National Corporation has $3.7 billion in assets and is the largest publicly traded company in Northern New England (NASDAQ: CAC). Camden National Bank is a full-service community bank that employs over 700 people, features a network of 64 banking centers and 85 ATMs in Maine, and offers state-of-the-art online and mobile banking resources as well as brokerage and insurance services through its division, Camden Financial Consultants. Acadia Trust offers investment management and fiduciary services through its offices in Portland, Bangor and Ellsworth. To learn more, visit www.CamdenNational.com.
###
Photo caption: Joanne Campbell, executive vice president at Camden National Bank, and Nate Cotnoir, commercial banking officer in Augusta, present the Bank's donation as one of the lead sponsors for the 2016 Bowl For Kid's Sake event to Cathy Hardy and Gwendolyn Hudson of Big Brothers Big Sisters of Mid-Maine.