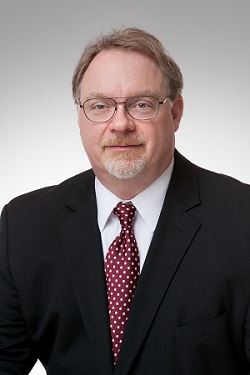 Camden, Maine, December 29, 2020 – James Adsit was promoted from Northern Maine Director of Commercial Banking at Camden National Bank to Senior Vice President, Southern Maine Director of Commercial Banking. Based out of Portland, Adsit will be responsible for managing all commercial banking activities and production in Southern Maine markets. In addition, he will direct commercial banking activities for the Senior Living & Senior Care line of business.
Adsit has more than 33 years of experience in commercial banking and finance. Since 2016, he's served customers at Camden National Bank, where he's played a vital role in developing the commercial banking business in Northern Maine, Downeast Maine, and Central Maine.
"Jim has played an important role in the growth of our commercial banking business here at Camden National Bank. He has excelled as a leader and is always in search of ways to better serve our clients, employees, local communities, and shareholders," said Ryan Smith, Executive Vice President of Commercial Banking at Camden National Bank.
Originally from New York and a graduate of S.U.N.Y., Adsit spent 18 years heading up commercial banking teams in the Detroit Metro area before relocating to Maine. He also served as the President and COO for tier-1 auto supplier, Prefix Corporation. Adsit is actively involved in the local community, and he currently serves on the board of directors for the Bangor Symphony Orchestra.
About Camden National Corporation
Camden National Corporation (NASDAQ:CAC) is the largest publicly traded bank holding company in Northern New England with $5.2 billion in assets and approximately 650 employees. Camden National Bank, its subsidiary, is a full-service community bank founded in 1875 in Camden, Maine. Dedicated to customers at every stage of their financial journey, the bank offers the latest in digital banking, complemented by personalized service with 58 banking centers, 24/7 live phone support, 68 ATMs, and additional lending offices in New Hampshire and Massachusetts. For the past three years, Camden National Bank was named a Customer Experience (CX) Leader by leading independent research firm, Greenwich Associates. In 2020, it received awards in two CX categories: U.S. Retail Banking and U.S. Commercial Small Business Banking. The Finance Authority of Maine has awarded Camden National Bank as "Lender at Work for Maine" for eleven years. Comprehensive wealth management, investment and financial planning services are delivered by Camden National Wealth Management. To learn more, visit CamdenNational.com. Member FDIC.