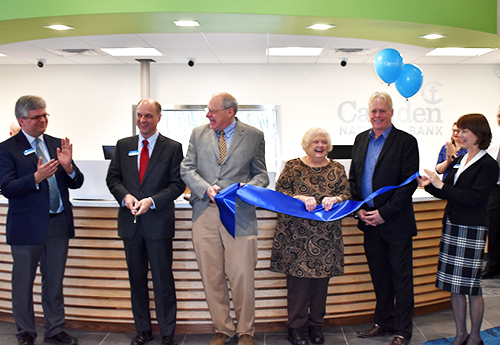 CAMDEN, ME, March 10, 2020 – Camden National Bank hosted a Ribbon Cutting Ceremony this morning to celebrate the opening of its new, 2,700 square-foot banking center at 435 Maine Street in Damariscotta, Maine. Local employees, chamber members, businesses, and supporters joined the gathering. Previously located at 4 Coastal Market Drive in Damariscotta, the bank officially opened for business at its new location in Camden National Bank Plaza on March 2nd with a seamless transition for customers.
"It was wonderful to celebrate our new open concept, state-of-the-art banking center with the Damariscotta community," said Greg Dufour, President & CEO of Camden National Bank. "As we continue investing in our branch network and local communities, we're always looking for ways to better serve our customers and provide personalized financial expertise, local decision making, and exceptional service, whether they choose to bank in person or online."
At the event, Camden National Bank also presented a $2,500 donation to the Ecumenical Food Pantry which distributes over 2,000 pounds of healthy food each week to residents of Damariscotta, Newcastle, Nobleboro, and the larger community.
In conjunction with the grand opening, the bank is also hosting a week-long celebration from March 9th – March 13th at the new banking center with refreshments, raffle prize drawings, special CD offers, and more.
About Camden National Corporation
Camden National Corporation (NASDAQ:CAC) is the largest publicly traded bank holding company in Northern New England with $4.4 billion in assets and 650 employees. Camden National Bank, its subsidiary, is a full-service community bank founded in 1875 in Camden, Maine. Dedicated to customers at every stage of their financial journey, the bank offers the latest in digital banking, complemented by personalized service with 61 banking centers, 24/7 live phone support, 71 ATMs, and additional lending offices in New Hampshire and Massachusetts. For the past two years, Camden National Bank was named "Customer Experience Leader in U.S. Retail Banking" by Greenwich Associates, and in 2019, it was the only New England based organization included in Sandler O'Neill's "Bank & Thrift Sm-All Star" list of high-performing financial institutions. The Finance Authority of Maine has awarded Camden National Bank as "Lender at Work for Maine" for ten years. Comprehensive wealth management, investment, and financial planning services are delivered by Camden National Wealth Management. To learn more, visit CamdenNational.com. Member FDIC.