Bangor, ME – September 21, 2016 – The Bangor Area Homeless Shelter has recognized Camden National Bank
as its "Business Supporter of the Year" for 2016 in honor of the Bank's efforts in supporting the shelter and Maine's homeless through its Hope@Home initiative and involvement in the annual Hike for the Homeless fundraising event. The award was presented at the Bangor shelter's annual meeting at the Fraternal Order of Eagles Club in Brewer last night.
"We are so honored to be recognized in this way," said Greg Dufour, president and chief executive officer of Camden National Bank, after accepting the award. "When we first started our Hope@Home program almost two years ago, our goal was to support shelters throughout our state, but also help raise awareness by using the opportunities that we have to talk, even if it's just for a few minutes, about homelessness in our communities. So far, we've had that conversation with our customers over 900 times and have raised $95,000 for Maine's homeless shelters."
Through the community-based, statewide Hope@Home program, Camden National Bank donates $100 for every new home it finances to a local homeless shelter in the homeowner's name. 
Dufour continued, "It's the shelters – the directors, volunteers and employees – as well as local law enforcement and first responders who are doing the hard work to help solve this problem in Maine. We're just proud that Camden National Bank can play a small role and help contribute to these efforts and everything they do on a daily basis."
For more information on Hope@Home or how to join Camden National Bank's efforts to help Maine's homeless individuals, children and families, please visit CamdenNational.com/hopeathome.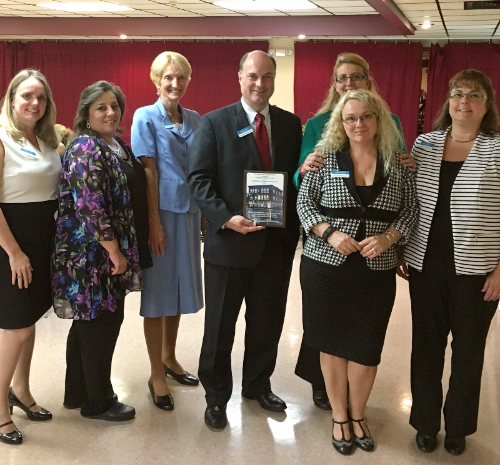 Greg Dufour (center), president and CEO of Camden National Bank, and local banking centers managers from the greater Bangor area with the bank's 'Business Supporter of the Year' award following the presentation on September 20th. (Pictured L-R: Cynthia Bergin, Cheryl Gray, Tammy Bryant,Dufour, Traci Tenney (in back), Carrie Bishop (in front), and Lisa Gallant)
About Camden National Bank
Camden National Bank is a full-service community bank that offers state-of-the-art online and mobile banking resources through a network of 63 branches and 85 ATMs in Maine, as well as lending offices in Massachusetts and New Hampshire. Headquartered in Camden, Maine, the Bank has been supporting Maine's people and businesses since 1875 and believes in creating strong connections to the community through volunteerism, sponsorships, and donations that strengthen and invigorate the areas it serves. Through programs like Hope@Home and the Community Spirit of Giving (CSOG), Camden National Bank partners with local agencies to provide vital assistance to those in need throughout the state. To learn more, visit
www.CamdenNational.com
. Member FDIC
###