Camden, Maine, February 27, 2023 – Camden National Bank has been awarded the Above and Beyond Award by the Employer Support of the Guard and Reserve (ESGR), an office within the Department of Defense. The award recognizes employers who have exceeded the legal requirements of the Uniformed Services Employment and Reemployment Rights Act by providing their National Guard and Reserve employees additional, non-mandated benefits such as differential or full pay to offset lost wages, extended health benefits, and other similar benefits.
"It's an honor to be able to support our employees who sacrificed to serve our country," said Greg Dufour, president and chief executive officer of Camden National Bank. "Our team is dedicated to providing the resources needed to ensure that those serving are supported and appreciated on every step of their journey with Camden National Bank."
"ESGR's motto is "We all Serve". In Maine, not only does the members of the National Guard and Reserves serve their community and country, but their employers serve too," said Bethanie E. Mazzaro, ESGR volunteer support technician. "Most businesses in Maine are directly impacted by drills, trainings, and deployments from our Reservists. In Maine, we work hard as a team to support each other's business successes and goals within our small communities."
In addition to the Above and Beyond award, the following four Camden National Bank employees were honored with Patriot Awards:
David Ackley, senior vice president, director of information security & enterprise risk management

Joanne Campbell, executive vice president, enterprise risk management and chief risk officer

Keith Gosselin, vice president, information security manager

Heather Robinson, executive vice president, chief human resources officer
The Patriot Award nomination is submitted by an employee serving in the National Guard or Reserve and reflects the efforts made by individual supervisors to support the employee through a wide range of measures, including flexible schedules, time off before and after deployment, caring for families, and granting leaves of absence if needed.
"Camden National Bank has consistently gone above and beyond in their support of my Army career and places a high value on the training I receive as part of the 146 Cyber Warfare Company (CWC)," said Tyler Perkins, assistant vice president, information security analyst, and Camden National Bank nominating employee. "With their flexibility, dedication, and support, I confidently recommend Camden National Bank as a place for veterans and currently serving military."
About Camden National Corporation
Camden National Corporation (NASDAQ: CAC) is the largest publicly traded bank holding company in Northern New England with $5.7 billion in assets and was proudly listed as one of the Best Places to Work in Maine in 2021 and 2022. Founded in 1875, Camden National Bank is a full-service community bank dedicated to customers at every stage of their financial journey. With 24/7 live phone support, 58 banking centers, and additional lending offices in New Hampshire and Massachusetts, Camden National Bank offers the latest in digital banking, complemented by award-winning, personalized service. To learn more, visit CamdenNational.bank. Member FDIC. Equal Housing Lender.
Comprehensive wealth management, investment, and financial planning services are delivered by Camden National Wealth Management.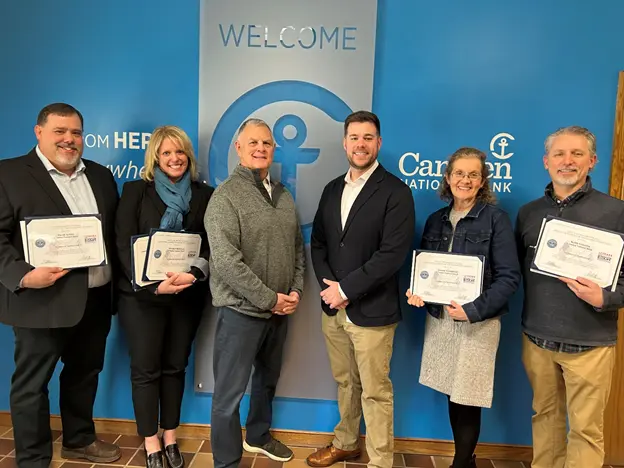 From left to right: David Ackley, Heather Robinson, Retired Colonel Dwaine Drummond, Employer Outreach Coordinator Maine Employer Support of the Guard and Reserve ESGR, Tyler Perkins, Joanne Campbell, Keith Gosselin