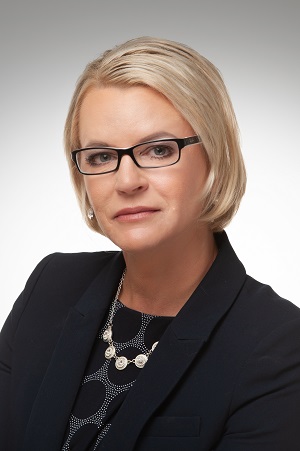 Camden, Maine, May 16, 2018 – Jody Hamilton was recently named Vice President, Retail Regional Manager for Camden National Bank's southern Maine market with nine banking centers from York to Bath. Originally from the city of Portland, Hamilton brings over 20 years' experience in the financial services industry in Maine.
Hamilton joins Camden National Bank from Gorham Savings Bank, where she served as VP, Senior Regional Bank Manager for 11 years. Previously, she was Sales Manager/Officer at MBNA for nine years, where she led a team of over 50 employees. In her new role, Hamilton will be responsible for overseeing business development, community partnerships and employee success in Camden National Bank's growing southern Maine market. 
"Jody's impressive experience and her community commitment make her a vital leader on our Retail Banking team," said Patricia Rose, Executive Vice President of Retail and Mortgage Banking at Camden National Bank. "She excels in developing employees, fostering local partnerships and providing an exceptional banking experience for customers."
"With an unmatched combination of innovative products and services, complemented by hands-on financial guidance, Camden National Bank provides a personal, rewarding banking experience for individuals, families and businesses," said Hamilton. "I'm very proud to have joined their highly committed team in the area of Maine I know and love."
Hamilton is a graduate of Southern Maine Community College, and she currently lives in Gorham, Maine with her husband Gerard. She serves as Treasurer for the Gorham Alliance Group, Co-Chair of the Gorham Annual Marketplace, and President of the Peterson Field Association. Hamilton is also a member of the Portland Regional Chamber of Commerce. She enjoys landscaping, traveling and spending time with her family and their two English springers.
About Camden National Corporation 
Camden National Corporation (NASDAQ:CAC), headquartered in Camden, Maine, is the largest bank holding company in Northern New England with $4.1 billion in assets and nearly 650 employees. Camden National Bank, its subsidiary, is a full-service community bank founded in 1875 that offers an array of consumer and business financial products and services, accompanied by the latest in digital banking technology to empower customers to bank the way they want. The Bank provides personalized service through a network of 60 banking centers, 74 ATMs, and lending offices in New Hampshire and Massachusetts, all complemented by 24/7 live phone support. 2017 marks the 8th time Camden National Bank has received the "Lender at Work for Maine" Award from the Finance Authority of Maine. Comprehensive wealth management, investment and financial planning services are delivered by Camden National Wealth Management. To learn more, visit CamdenNational.com. Member FDIC.