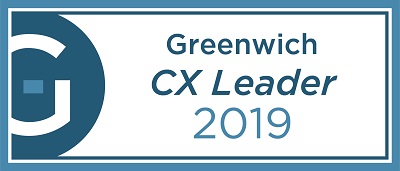 Camden, Maine, December 9, 2019 – Camden National Bank is one of six U.S. banks named a 2019 Greenwich Customer Experience Leader by Greenwich Associates, leading global provider of data, analytics and insights to the financial services industry. The only New England-based bank among those named this year, Camden National Bank was one of five banks recognized specifically in the U.S. Retail Banking category.
"It is an honor to be recognized again this year for our continuous dedication to enhancing the customer experience in person and online," said Renée Smyth, Executive Vice President, Chief Experience and Marketing Officer. "The 2019 award speaks to our employees' exceptional commitment to building trusted relationships with customers and gathering new ideas and feedback in order to spark innovation and deliver a better banking experience for all."
Greenwich Associates conducts interviews and extensive research which provides a foundation of benchmark data on bank customer relationships which does not exist anywhere else in the industry. Greenwich CX Leaders achieve scores that exceed the industry benchmarks by a specific margin for overall satisfaction, likelihood to recommend and likelihood to continue using.
"In virtually every bank with best-in-class CX, we find committed leadership and the seamless integration of digital capabilities that enhance—rather than replace—the human interaction with a banker or relationship manager," says Greenwich Associates Managing Director Jacqueline Vose in a recent press release.
About Camden National Corporation
Camden National Corporation (NASDAQ:CAC) is the largest publicly traded bank holding company in Northern New England with $4.5 billion in assets and nearly 650 employees. Camden National Bank, its subsidiary, is a full-service community bank founded in 1875 in Camden, Maine. Dedicated to customers at every stage of their financial journey, the bank offers the latest in digital banking, complemented by personalized service with 61 banking centers, 24/7 live phone support, 71 ATMs, and lending offices in New Hampshire and Massachusetts. For the past two years, Camden National Bank was named "Customer Experience Leader in U.S. Retail Banking" by Greenwich Associates, and in 2019, it was the only New England based organization included in Sandler O'Neill's "Bank & Thrift Sm-All Star" list of high-performing financial institutions. The Finance Authority of Maine has awarded Camden National Bank as "Lender at Work for Maine" for ten years. Comprehensive wealth management, investment, and financial planning services are delivered by Camden National Wealth Management. To learn more, visit CamdenNational.com. Member FDIC.