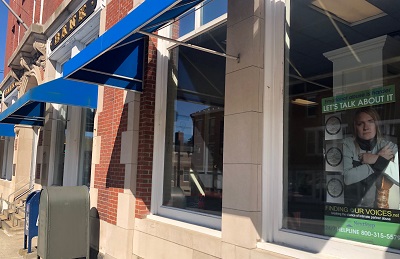 CAMDEN, ME, July 15, 2020 – Camden National Bank announced it has given more than $17,500 to Finding Our Voices (FOV), a new nonprofit with a mission to break the silence of intimate partner abuse, town by town, conversation by conversation, all over Maine. The funding helps FOV expand a bold "Let's talk about it" window banner campaign, which sheds light on the faces and stories of 30 (and counting) survivors and the 24/7 hotline number of the local domestic violence agency, using 4' x 2' banners in downtown business windows. 
The pandemic has made living with angry and controlling family members even more dangerous through a host of factors including shelter-at-home mandates and increased financial strain. The window banner campaign kicked off April 2nd in the Midcoast with 65 banners. Courtesy of funding from Camden National Bank, pamphlets with information about domestic violence resources were mailed to every residential address in seven towns. Inspired by an outpouring of support from the community—including businesses generously providing their valuable window space—FOV is expanding the initiative all across Maine. Banners are in downtown business windows across Machias, Calais, Ellsworth, Boothbay Harbor, Damariscotta, Bar Harbor, Northeast Harbor, Southwest Harbor, and Eastport, and this month are coming back to the Midcoast and papering the Blue Hill Peninsula and Millinocket, Lincoln, Newport and Dover Foxcroft.
"When Finding Our Voices approached us about their idea, we immediately knew we could help by sponsoring the campaign and displaying the banners at our banking centers," said Greg Dufour, President & CEO of Camden National Bank. "It's critical to connect individuals in need with local domestic violence support agencies, many of which we also support through our Hope@Home charitable giving program."
The awareness campaign is making a difference. Staff and volunteers at New Hope for Women and NextStep domestic violence support agencies have shared that women are calling their hotlines to seek help after seeing the banners. This help is critical considering that year after year, for decades, domestic violence has accounted for nearly half of all homicides in Maine. "The banners have caught people's attention in a way we have never seen before," said Dorathy Martel, executive director of NextStep. In a recent Dirigo Talks hosted by Camden International Film Festival, Waldo County Sheriff Jeffrey Trafton said the awareness-building of Finding Our Voices "is hugely important. It makes a huge difference for victims to know others have been where they are, and there is a way out." 
"Domestic violence and intimate partner abuse are complex issues that are not talked about due to fear, stigma, and misplaced shame," said Patrisha McLean, Founder and President of Finding Our Voices. "Through our statewide banner campaign, and with the help of Camden National Bank and hundreds of local businesses displaying and co-sponsoring these banners, we're fostering compassion while empowering women and giving them a platform to break their silence, access life-saving resources, and connect with other survivors to heal." 
Since 2015, Camden National Bank has given over $517,000 through its Hope@Home program to local homeless shelters—many of which provide support resources and safe homes for victims of domestic violence and abuse. Each time borrowers close a home mortgage with Camden National Bank, the bank donates $100 to a nearby shelter. 
"We believe that every community member deserves a safe place to call home, and with the help of our dedicated customers and employees, we're providing building blocks of support to those who need it most—especially during this challenging time," said Dufour.  
Businesses, organizations, and individuals looking to get involved are encouraged to visit www.FindingOurVoices.net. 
About Camden National Corporation
Camden National Corporation (NASDAQ:CAC) is the largest publicly traded bank holding company in Northern New England with $4.6 billion in assets and 650 employees. Camden National Bank, its subsidiary, is a full-service community bank founded in 1875 in Camden, ME. Dedicated to customers at every stage of their financial journey, the bank offers the latest in digital banking, complemented by personalized service with 58 banking centers, 24/7 live phone support, 68 ATMs, and additional lending offices in New Hampshire and Massachusetts. For the past two years, Camden National Bank was named "Customer Experience Leader in U.S. Retail Banking" by Greenwich Associates, and in 2019, it was the only New England based organization included in Sandler O'Neill's "Bank and Thrift Sm-All Star" list of high-performing financial institutions. The Finance Authority of Maine has awarded Camden National Bank as "Lender at Work for Maine" for ten years. Comprehensive wealth management, investment and financial planning services are delivered by Camden National Wealth Management. To learn more, visit CamdenNational.com. Member FDIC.