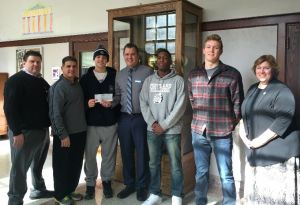 Camden, ME – February 25, 2016 – Camden National Bank is ensuring that more than 1,600 Maine students will be cheering on their home team at the 2016 State Basketball Championship games on February 26th and 27th. This marks the seventh year that the bank has partnered with local schools to purchase tickets for students and, in some cases, help with transportation to the championship games.
"Basketball tournament season in Maine is such a special time of year – one that goes beyond just cheering on our local student athletes to being a real community event – and we are happy to help ensure as much participation as possible," said Greg Dufour, president and chief executive officer of Camden National Bank. "In addition to congratulating these great teams for making it to the state finals, we would like to recognize that, whether they win or lose, their dedication and hard work are worth celebrating."
In its ongoing support of local schools and youth athletics, Camden National Bank once again offered free tickets to each of the schools within its footprint that made it to the state championships. This year the following schools and teams, located in a community with a Camden National banking center, made it to the final playoff games in Portland, Bangor and Augusta:
Boothbay Region High School, Boothbay Harbor (Girls Class C)
Edward Little High School, Auburn (Girls Class AA)
Ellsworth High School, Ellsworth (Boys Class B)
Falmouth High School, Falmouth (Boys Class A)
George Stevens Academy, Blue Hill (Boys Class C)
Narraguagus High School, Milbridge (Girls Class C)
Oceanside High School, Rockland (Boys Class A)
Portland High School, Portland (Boys Class AA)
Upper Kennebec Valley Memorial High School, Bingham (Boys Class D)
Waynflete School, Portland (Boys Class C)
York High School, York (Girls Class A)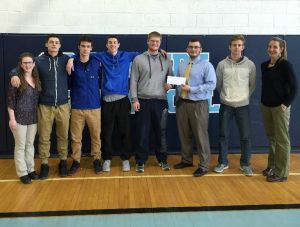 Deborah Migneault, principal of Portland High School, commented on the significance of this support for the school and its students. "This donation from Camden National Bank allows our diverse student population to attend the game and cheer on our team," said Migneault. "This year's Boys Class AA state championship once again brings together two cross-town rivals in a winter season 'Battle of the Bridge' contest, and the bank's generous donation will provide an opportunity for all interested students to pack the house and participate in this exciting event!"
For Narraguagus High School, this is the first time in the history of Girls' Basketball at the school that the team has won the Eastern (now Northern) Maine Regional Finals and had the opportunity to attend the state championship game. Lucille Willey, principal of Narraguagus High School, noted, "We are so proud of our girls. They are just a great group of girls who contribute to their school and their community in so many ways, and it is heartwarming to see how the community has turned out to support the girls and our school."
She continued, "Camden National Bank has generously given us 150 student tickets for the state game in Augusta on Saturday. Without this donation, many of our students would not be able to be there to cheer on their team. This kind of support doesn't happen everywhere, and we are so thankful to have supporters like Camden National Bank who care about our school and our students." 
The bank first provided free student tickets in 2010 at the suggestion of an employee who recognized the need when she was in high school and wished that someone had stepped in to ensure that all students, regardless of their personal situation, could attend the state tournaments. Every year, schools across the state have echoed this need and expressed their appreciation for this support.
"The support we have received from our community and local businesses has been overwhelming," said Renée Thompson, principal of Oceanside High School East. "Their genuine interest and willingness to invest in our students and their success has gone above and beyond what I would have ever expected. We are very grateful to Camden National Bank for making it possible for many of our students to attend this unforgettable championship game. It is generous donations like these that will provide lifelong memories for our students."
About Camden National Bank
Camden National Corporation is the holding company of Camden National Bank and Acadia Trust, N.A. Headquartered in Camden, Maine, Camden National Corporation has $3.7 billion in assets and is the largest publicly traded company in Northern New England (NASDAQ: CAC). Camden National Bank is a full-service community bank that employs over 700 people, features a network of 64 banking centers and 85 ATMs in Maine, and offers state-of-the-art online and mobile banking resources as well as brokerage and insurance services through its division, Camden Financial Consultants. Acadia Trust offers investment management and fiduciary services through its offices in Portland, Bangor and Ellsworth. To learn more, visit www.CamdenNational.com.
###
Photo caption: Camden National Bank employees present donations to students and school representatives at Portland High School (top) and Oceanside High School East (bottom).