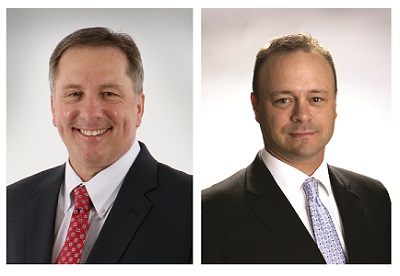 Camden, ME, August 18, 2020 – Camden National Bank announced that effective September 1, 2020, Timothy P. Nightingale will become Executive Vice President, Chief Credit Officer, and Ryan A. Smith will be promoted from Senior Vice President, Director of Credit Administration to Executive Vice President, Commercial Banking. Nightingale joined Camden National Bank more than 20 years ago and most recently served as Executive Vice President, Senior Loan Officer. Smith joined the bank in 2012 and has since been promoted to leadership roles in commercial banking, treasury management, and credit administration, culminating in his new position on the executive team.
"Tim and Ryan have been instrumental to the success and growth of Camden National Bank's commercial banking division, as well as our exceptional loan portfolio and balanced underwriting management over the years," said Greg Dufour, President & CEO of Camden National Bank. "Both have had dedicated careers at Camden National Bank, seeking opportunities to grow professionally and better serve clients, fellow employees, local communities, and our shareholders." 
Nightingale, who will be leading credit and underwriting, special assets, and commercial administration in his new role, first joined as Regional Vice President of UnitedKingfield Bank, a wholly owned subsidiary of Camden National Corporation. In 2001, he was named Senior Lending Officer and was promoted to Senior Vice President in 2003. In September 2006, when UnitedKingfield Bank merged into Camden National Bank, Nightingale became Senior Vice President, Senior Lending Officer. In January 2011, he was promoted to Executive Vice President.
Nightingale currently serves on the board of directors for the Finance Authority of Maine, as well as the Economic Growth Council of Maine, both of which are gubernatorial appointments. He is a former gubernatorial appointee and served for seven years on the board of Maine Technology Institute.
Smith brings more than 25 years of banking and finance experience—including extensive knowledge of commercial lending, business banking, and treasury management services—to his new role on the executive team. In 2012, Smith joined Camden National Bank to lead commercial banking efforts in central and southern Maine. He soon took on the added responsibility of leading the treasury management group, and he was named Camden National Bank's Officer of the Year in 2014. He grew the treasury management line of business through 2015, when he became Director of Commercial Banking for central and midcoast Maine. In 2019, he was promoted to Senior Vice President, Director of Credit Administration.
Originally from Maine, Smith currently resides in Auburn with his family. He is actively involved in the local community as a volunteer coach for youth baseball. He also serves as a Board Director and Past President of the Maine Building Materials Exchange. Smith is a member of the Commercial Lending Committee for the Maine Bankers Association. He has his Bachelors of Science in Finance from the University of Maine.
"We look forward to the next chapter of Tim and Ryan's service on our executive management team," continued Dufour. "They will work closely to build upon our strong foundation in commercial banking."
About Camden National Bank
Camden National Corporation (NASDAQ:CAC) is the largest publicly traded bank holding company in Northern New England with $5.0 billion in assets and 650 employees. Camden National Bank, its subsidiary, is a full-service community bank founded in 1875 in Camden, Maine. Dedicated to customers at every stage of their financial journey, the bank offers the latest in digital banking, complemented by personalized service with 58 banking centers, 24/7 live phone support, 68 ATMs, and additional lending offices in New Hampshire and Massachusetts. For the past two years, Camden National Bank was named "Customer Experience Leader in U.S. Retail Banking" by Greenwich Associates, and in 2019, it was the only New England based organization included in Sandler O'Neill's "Bank and Thrift Sm-All Star" list of high-performing financial institutions. The Finance Authority of Maine has awarded Camden National Bank as "Lender at Work for Maine" for ten years. Comprehensive wealth management, investment and financial planning services are delivered by Camden National Wealth Management. To learn more, visit CamdenNational.com. Member FDIC.