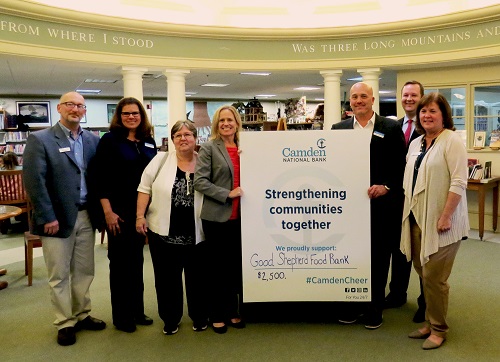 Camden, Maine, September 27, 2018
– This month, Camden National Bank employees presented a special $2,500 donation to Good Shepherd Food Bank at a public event hosted by the Camden Public Library. The gift came from the Bank's unique employee fundraising initiative called Community Spirit of Giving (CSOG).
"We're very grateful for the vital work Good Shepherd Food Bank is doing across Maine," said Jared Merritt, Senior Vice President, Treasurer of Camden National Bank and Co-Chair for Community Spirit of Giving. "Thank you so much to the Camden Public Library for hosting this important discussion on food insecurity in our community."

CSOG is one of Camden National Bank's many philanthropic commitments, and it is entirely employee-run. Fundraising happens through various events and activities throughout the year, and all donations support food pantries, schools and community leaders across the state who work to prevent food insecurity and hunger in Maine.
"Good Shepherd Food Bank is so pleased to have the support of Camden National Bank," said President Kristen Miale. "We rely on philanthropic support to provide more than 24 million meals each year to the nearly 15 percent of Mainers struggling with food insecurity. This gift truly makes a difference."

About Camden National Corporation
Camden National Corporation (NASDAQ:CAC), headquartered in Camden, Maine, is the largest publicly traded bank holding company in Northern New England with $4.2 billion in assets and nearly 650 employees. Camden National Bank, its subsidiary, is a full-service community bank founded in 1875 that offers an array of consumer and business financial products and services, accompanied by the latest in digital banking technology to empower customers to bank the way they want. The Bank provides personalized service through a network of 60 banking centers, 71 ATMs, and lending offices in New Hampshire and Massachusetts, all complemented by 24/7 live phone support. 2017 marks the 8th time Camden National Bank has received the "Lender at Work for Maine" Award from the Finance Authority of Maine. Comprehensive wealth management, investment and financial planning services are delivered by Camden National Wealth Management. To learn more, visit CamdenNational.com. Member FDIC.