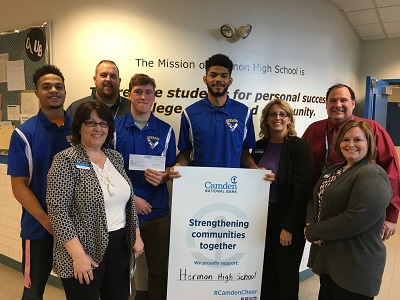 Camden, Maine, March 06, 2018 – During the excitement of the Maine State Basketball Championships, Camden National Bank announced they would be supporting the boys and girls teams within its footprint who made it into the 2018 championship games. The donations were dedicated to making game tickets or bus transportation free for students so that they could cheer on their teams. Camden National Bank has carried on this tradition for nine years now, and this year they donated over $7,500.
"We are very pleased to support our top high school basketball teams again this year," said Greg Dufour, President & CEO. "We know how important the championship games are to not only the basketball teams, but also the larger community and student body, and our goal is to make it possible for students to attend and rally behind their teams."
With Camden National Bank's donation, free tickets and transportation were available for hundreds of Maine high schoolers who traveled to the Championship games in Portland, Bangor, and Augusta.
"We recognize how essential active lifestyles and athletics are for Maine students, and we also love to participate in a healthy dose of friendly competition that brings together communities across the state. Congratulations to all of the fantastic teams who competed in the Championship Games this year!" 
About Camden National Corporation
Camden National Corporation (NASDAQ:CAC), founded in 1875 and headquartered in Camden, Maine, is the largest bank holding company in Northern New England with $4.1 billion in assets and nearly 650 employees. Camden National Bank, its subsidiary, is a full-service community bank that offers an array of consumer and business financial products and services, accompanied by the latest in digital banking technology to empower customers to bank the way they want. The Bank provides personalized service through a network of 60 banking centers, 76 ATMs, and lending offices in New Hampshire and Massachusetts, all complemented by 24/7 live phone support. 2017 marks the 8th time Camden National Bank has received the "Lender at Work for Maine" Award from the Finance Authority of Maine. Comprehensive wealth management, investment and financial planning services are delivered by Camden National Wealth Management. To learn more, visit CamdenNational.com . Member FDIC.