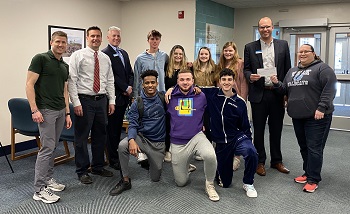 CAMDEN, ME, March 3, 2020 – This past weekend, Camden National Bank gave nearly $7,500 in donations to ten Maine high school teams in the communities where it has banking centers for the 2020 Boys and Girls Basketball State Championships. The support made it possible for more than 1,500 students to attend this year's games in Portland, Bangor, and Augusta and cheer on their friends and classmates. Camden National Bank has now carried on this community tradition for 11 years, donating nearly $60,000 total to Maine high schools and enabling more than 12,000 students to attend Championship Games for free.
This unique sponsorship originally started when a Camden National Bank employee called attention to the fact that many high school students do not have the funds to buy tickets and see their teams play in the Championships. 
Those students miss out on seeing the game and being a part of this important community event. The employee brought her concern and idea to the Bank, and they committed to supporting the students with tickets, free of charge.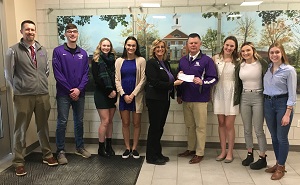 "It is incredible to see how this grassroots community effort has become a great tradition for local students, families, and our employees over the years," said Greg Dufour, President & CEO of Camden National Bank. "Congratulations to all the teams that competed in the Championship games this year. Your dedication and teamwork—as well as the support from your classmates—are energizing and inspiring for all."
Towns supported by Camden National Bank in the 2020 State Championship games were Hampden, York, Auburn, Saco, Winthrop, Machias, Hermon, and Greenville. To learn more about Camden National Bank's community giving efforts, please visit https://www.camdennational.com/about/our-story/community-commitment.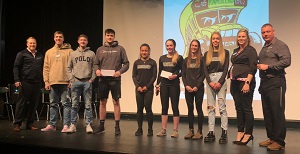 About Camden National Corporation
Camden National Corporation (NASDAQ:CAC) is the largest publicly traded bank holding company in Northern New England with $4.4 billion in assets and 650 employees. Camden National Bank, its subsidiary, is a full-service community bank founded in 1875 in Camden, Maine. Dedicated to customers at every stage of their financial journey, the bank offers the latest in digital banking, complemented by personalized service with 61 banking centers, 24/7 live phone support, 71 ATMs, and additional lending offices in New Hampshire and Massachusetts. For the past two years, Camden National Bank was named "Customer Experience Leader in U.S. Retail Banking" by Greenwich Associates, and in 2019, it was the only New England based organization included in Sandler O'Neill's "Bank & Thrift Sm-All Star" list of high-performing financial institutions. The Finance Authority of Maine has awarded Camden National Bank as "Lender at Work for Maine" for ten years. Comprehensive wealth management, investment, and financial planning services are delivered by Camden National Wealth Management. To learn more, visit CamdenNational.com. Member FDIC.