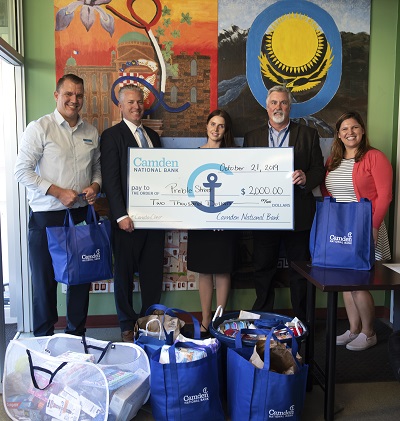 Camden, Maine, November 26, 2019 – This fall, Camden National Bank celebrated its Customer Appreciation Week, highlighted by a $10,000 donation to five homeless shelters in Maine. The shelters receiving funds all provide vital support to Maine youth and teens. The bank's employees also donated more than 625 pounds of toiletry items, collected at the bank's 2019 Employee Appreciation Night, to local homeless shelters. The unrestricted funding and in-kind donations are part of the bank's larger Hope@Home program which has provided more than $440,000 to homeless shelters in the bank's service area over the past five years.
"Our Hope@Home program has received enthusiastic support from customers and employees since it began in 2015," said Greg Dufour, President & CEO of Camden National Bank. "These additional donations represent our commitment to this cause as well as the program's effort to increase awareness for the issue of homeless in our communities."
The five shelters that received donations for teen and youth services are: Emmaus Homeless Shelter in Orland, Shaw House in Bangor, New Beginnings Inc. in Lewiston, Hospitality House in Rockland, and the Joe Kreisler Teen Shelter at Preble Street in Portland.
"We're humbled by the continued support the Hope@Home program has provided to youth at Preble Street," said Preble Street Executive Director Mark Swann. "Every dollar that goes to our Teen Services supports young people on their journey to stability, and we know firsthand that a seemingly simple toothbrush or a bar of soap can greatly impact the health and dignity of a person experiencing homelessness."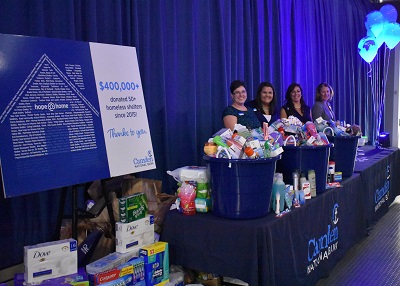 All five shelters will also receive 125 pounds each of assorted toiletry items—like toothbrushes, shampoo, tissues, and more—donated by Camden National Bank employees.
"The collection boxes at our 2019 Employee Appreciation Night were overflowing with donated items from our employees," continued Dufour. "It was an incredible reminder of just how committed each employee at Camden National Bank is to giving back and supporting someone going through a tough time."
To learn more about Hope@Home, please visit: https://www.camdennational.com/hopeathome
About Camden National Corporation
Camden National Corporation (NASDAQ:CAC), headquartered in Camden, Maine, is the largest publicly traded bank holding company in Northern New England with $4.5 billion in assets and nearly 650 employees. Camden National Bank, its subsidiary, is a full-service community bank founded in 1875 that offers an array of consumer and business financial products and services, accompanied by the latest in digital banking technology to empower customers to bank the way they want. The Bank provides personalized service through a network of 61 banking centers, 71 ATMs, and lending offices in New Hampshire and Massachusetts, all complemented by 24/7 live phone support. Greenwich Associates named Camden National Bank a 2018 Greenwich CX Leader in U.S. Retail Banking, a designation that recognizes top U.S. banks in customer experience. For ten years, Camden National Bank has received the "Lender at Work for Maine" Award from the Finance Authority of Maine. Comprehensive wealth management, investment and financial planning services are delivered by Camden National Wealth Management. To learn more, visit CamdenNational.com. Member FDIC.