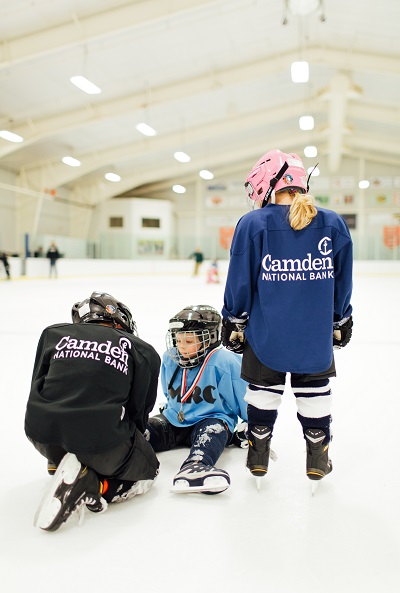 Camden, Maine, October 8, 2019 – Camden National Bank announced a $30,000 donation to Midcoast Recreation Center (MRC) to continue providing support for the 6U youth hockey program. Since 2009, the bank has been a loyal corporate partner and sponsor of MRC, where 400 participants enjoy hockey programming each year, and approximately 7,000 people of all ages join public skating hours.
"We're proud to be a longtime supporter of MRC," said Gregory A. Dufour, President & CEO of Camden National Bank. "The youth hockey programs provide a perfect opportunity for young children in Midcoast to learn about teamwork, athletics, and healthy lifestyles, and we're so glad that families—including many employees and customers at Camden National Bank—have access to MRC's incredible athletics facilities."
Midcoast Recreation Center took over the 6U hockey program in 2016. In partnership with Camden National Bank, MRC was able to provide this program free of charge. MRC wanted to eliminate any financial barrier to participation in youth hockey, and with Camden National Bank's sponsorship, MRC is able to provide this instructional program and include all the hockey equipment including ice skates to families for free. 
"MRC is excited to partner with Camden National Bank to provide a free U6 hockey program for our community," said Craig Wilson, Executive Director of MRC. "Too often kids cannot participate because the cost is too high, but with this free program any child has the opportunity to experience skating and playing hockey – no one is turned away."
The 6U program has grown from 30 participants to over 130 children annually. New U6 hockey program sessions begin each month and interested families can learn more at www.midcoastrec.org or by calling MRC at 236-9400.
About Camden National Corporation
Camden National Corporation (NASDAQ:CAC), headquartered in Camden, Maine, is the largest publicly traded bank holding company in Northern New England with $4.4 billion in assets and nearly 650 employees. Camden National Bank, its subsidiary, is a full-service community bank founded in 1875 that offers an array of consumer and business financial products and services, accompanied by the latest in digital banking technology to empower customers to bank the way they want. The Bank provides personalized service through a network of 60 banking centers, 71 ATMs, and lending offices in New Hampshire and Massachusetts, all complemented by 24/7 live phone support. Greenwich Associates named Camden National Bank a 2018 Greenwich CX Leader in U.S. Retail Banking, a designation that recognizes top U.S. banks in customer experience. For nine years, Camden National Bank has received the "Lender at Work for Maine" Award from the Finance Authority of Maine. Comprehensive wealth management, investment and financial planning services are delivered by Camden National Wealth Management. To learn more, visit CamdenNational.com. Member FDIC.