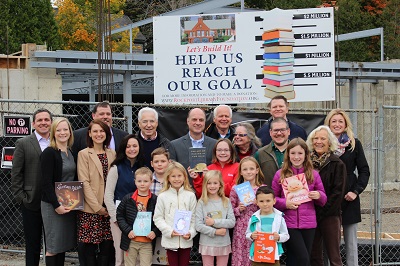 Camden, Maine, November 6, 2019 – Camden National Bank recently announced a major gift to Rockport's new library building campaign and presented the Rockport Library Foundation with a $25,000 donation.
"The Rockport Public Library serves as a community cornerstone for our local customers and over 100 Camden National Bank employees who work at the Hanley Center, our main operations office in Rockport," said President and CEO Greg Dufour. "Libraries play a key role in providing everyone with access to books and education, as well as the latest technology, and we look forward to seeing the new library open its doors next summer."
The Rockport Library Foundation's Capital Campaign Co-Chair Joan Welsh added, "We're delighted with the support we've received from Camden National Bank. Thanks to this donation, we have now surpassed $1.6 million in private donations toward our $2.0 million fundraising goal."
Located at 1 Limerock Street in the historic Rockport Village, the new Rockport Public Library will feature 7,000-square-feet of modern space with an additional 3,000-square-foot available for future expansion and technological needs. The two-story building plans include a dedicated space for teens and small children, a tutor/study room, a marine room, media area, and a program/reading space. Construction of the new library broke ground on June 7th, 2019 with construction taking approximately 12 months.
About Camden National Corporation
Camden National Corporation (NASDAQ:CAC) is the largest publicly traded bank holding company in Northern New England with $4.4 billion in assets and nearly 650 employees. Camden National Bank, its subsidiary, is a full-service community bank founded in 1875 in Camden, Maine. Dedicated to customers at every stage of their financial journey, the bank offers the latest in digital banking, complemented by personalized service with 60 banking centers, 24/7 live phone support, 71 ATMs, and lending offices in New Hampshire and Massachusetts. Camden National Bank was named one of two "Customer Experience Leaders in U.S. Retail Banking" by Greenwich Associates, and in 2019, it was the only New England based organization included in Sandler O'Neill's "Bank & Thrift Sm-All Star" list of high-performing financial institutions. The Finance Authority of Maine has awarded Camden National Bank as "Lender at Work for Maine" for nine years. Comprehensive wealth management, investment, and financial planning services are delivered by Camden National Wealth Management. To learn more, visit CamdenNational.com. Member FDIC.