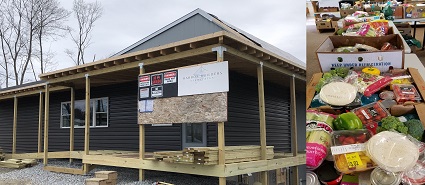 CAMDEN, ME, May 6, 2020 – Camden National Bank announced a $10,000 donation to Area Interfaith Outreach (AIO Food and Energy Assistance) for its "More Food, More Often" capital campaign to renovate and expand into a new facility in Rockland, adjacent to its current building.
"The team at AIO is doing an incredible job to help meet an extraordinary demand for healthy food at this time," said Greg Dufour, President & CEO of Camden National Bank. "As they work to construct their larger facility while also supporting clients in need, we felt it was critical to lend a helping hand."
A key community resource for Midcoast Maine, AIO Food and Energy Assistance supports more than 4,265 households (11,000 individuals) with food, and it works with local utilities to provide energy assistance support to over 600 households in 18 municipalities in the county. According to Good Shepherd Food Bank, food insecurity in Maine could increase by as much 39 percent in 2020 due to COVID-19, depending on the sustained growth in rates of unemployment and poverty. 
"We're grateful for the generous support from our neighbors at Camden National Bank and our incredible community of donors," said Liz Jenkins, AIO's Board President. "AIO is a vital and growing part of the web of services that holds our community together, and we can't do it without working hand-in-hand with local organizations, public and private."
AIO's new 3,800 square-foot facility is on track to open this summer, assuming the remaining necessary funds are raised, which will allow for a more efficient system of handling food, a safe and secure environment for clients, and the opportunity to better integrate and partner with other social service providers.
"AIO's Board of Directors has had a vision of creating an AIO campus for many years, which will bring together many helpful supportive services. We invite our community to help us complete this new building, which will be a huge step in actualizing this vision," continued Jenkins.
"It is very troubling that many in our communities are more vulnerable to hunger, domestic violence, and homelessness during this critical time," said Greg Dufour, President & CEO of Camden National Bank. "In response, we're working to ensure even more support for organizations, like AIO, working tirelessly to provide healthy food and safety to some of our most vulnerable community members. We also remain very committed to our Hope@Home program, which has now provided more than $500,000 for local homeless shelters."
About Camden National Corporation
Camden National Corporation (NASDAQ:CAC) is the largest publicly traded bank holding company in Northern New England with $4.6 billion in assets and 650 employees. Camden National Bank, its subsidiary, is a full-service community bank founded in 1875 in Camden, Maine. Dedicated to customers at every stage of their financial journey, the bank offers the latest in digital banking, complemented by personalized service with 58 banking centers, 24/7 live phone support, 71 ATMs, and additional lending offices in New Hampshire and Massachusetts. For the past two years, Camden National Bank was named "Customer Experience Leader in U.S. Retail Banking" by Greenwich Associates, and in 2019, it was the only New England based organization included in Sandler O'Neill's "Bank & Thrift Sm-All Star" list of high-performing financial institutions. The Finance Authority of Maine has awarded Camden National Bank as "Lender at Work for Maine" for ten years. Comprehensive wealth management, investment, and financial planning services are delivered by Camden National Wealth Management. To learn more, visit CamdenNational.com. Member FDIC.