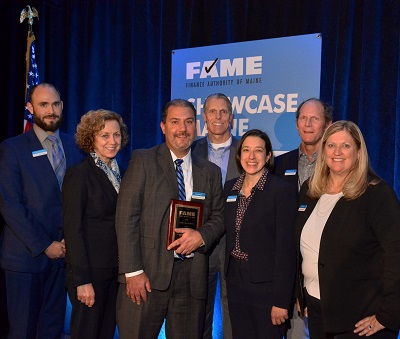 Camden, Maine, November 22, 2019 – The Finance Authority of Maine (FAME) presented Camden National Bank with the "Lender at Work for Maine" Award at last night's annual Showcase Maine event in Portland. The award category is reserved for lenders with assets of $1.5 billion and above, and this is the bank's tenth time as a FAME awardee. Earlier this month, Camden National Bank also received the 2019 U.S. Small Business Administration (SBA) District Director Award. Each recognition highlights Camden National Bank's outstanding commitment to supporting Maine business growth.
Over the past year, Camden National Bank partnered with FAME on 48 loans totaling approximately $13.6 million. This in turn helped to create 109 Maine jobs and retain an additional 484 jobs.
"It's incredibly rewarding to support the growth and success of hard-working, local businesses which help our communities and local economy thrive," said Tim Nightingale, Executive Vice President and Senior Lending Officer at Camden National Bank. "We are honored to receive both FAME's 'Lender at Work for Maine Award' and the SBA's 'District Director Award' this year as these recognitions represent the long-lasting impact that our partnerships and capabilities have on Maine businesses, families, and communities."
"Camden National Bank is a valued partner of FAME's, and we are pleased to once again recognize them for utilizing our programs to help grow Maine's economy and create and retain good-paying Maine jobs," said Bruce Wagner, FAME CEO.
FAME is a quasi-independent state agency that provides financial solutions that help Maine people achieve their business and higher education goals. FAME, which is celebrating its 36th Anniversary, helps create a stronger Maine workforce by focusing on the nexus of economic and educational development.
About Camden National Corporation
Camden National Corporation (NASDAQ:CAC) is the largest publicly traded bank holding company in Northern New England with $4.5 billion in assets and nearly 650 employees. Camden National Bank, its subsidiary, is a full-service community bank founded in 1875 in Camden, Maine. Dedicated to customers at every stage of their financial journey, the bank offers the latest in digital banking, complemented by personalized service with 61 banking centers, 24/7 live phone support, 71 ATMs, and lending offices in New Hampshire and Massachusetts. Camden National Bank was named one of two "Customer Experience Leaders in U.S. Retail Banking" by Greenwich Associates, and in 2019, it was the only New England based organization included in Sandler O'Neill's "Bank & Thrift Sm-All Star" list of high-performing financial institutions. The Finance Authority of Maine has awarded Camden National Bank as "Lender at Work for Maine" for ten years. Comprehensive wealth management, investment, and financial planning services are delivered by Camden National Wealth Management. To learn more, visit CamdenNational.com. Member FDIC.