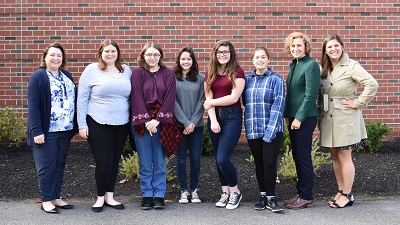 Camden, Maine, October 31, 2019 – Camden National Bank announced a $15,000 donation to the Olympia Snowe Women's Leadership Institute ("OSWLI") to support programming for Maine high school girls. Deeply committed to the vision and mission of OSWLI, seven Camden National Bank employees are now serving as Olympia's Leaders Advisors (OLAs), working with 70 high school girls across Maine throughout the three-year program. In total this year, the Institute will serve 540 young women from 36 partner schools across all 16 counties of Maine.
"Camden National Bank is incredibly proud to support the Institute and its work to build strong, courageous female leaders," said Joanne Campbell, Regional OLA for the Institute and Executive Vice President, Risk Management at Camden National Bank. "We are also very proud of our passionate employees who have been selected to serve as OLAs and play a direct role in shaping the learning and leadership growth of Maine girls."
The mission of the Olympia Snowe Women's Leadership Institute is to raise the confidence and aspirations of high school girls by helping them develop the skills required to be leaders in their lives, families, careers, and communities.
"Camden National Bank is helping provide a vital support system and clear pathway for girls to create and pursue visions of success right here in Maine. I am tremendously grateful for the bank's generous financial support and the three-year volunteer commitment made by so many of its employees—both of which keep our vision, and those of Olympia's Leaders, alive," shared former United States Senator and Founder of OSWLI, Olympia Snowe.
Olympia's Leaders will receive close to 10,000 hours of mentoring from OLAs and program guests over the course of the 2019-2020 academic year alone.
This fall, more than 96% of Olympia's Leaders in the Class of 2019 began higher education or training and certificate-bearing programs, while others pursued gap years or immediately entered the workforce. More than 60% of graduates matriculated to Maine institutions.
The Institute's inaugural class, who graduated last June, reported that the program impacted their leadership ability—with 100% reporting that the Institute improved their understanding of their value system and confidence.
About Camden National Corporation

Camden National Corporation (NASDAQ:CAC) is the largest publicly traded bank holding company in Northern New England with $4.4 billion in assets and nearly 650 employees. Camden National Bank, its subsidiary, is a full-service community bank founded in 1875 in Camden, Maine. Dedicated to customers at every stage of their financial journey, the bank offers the latest in digital banking, complemented by personalized service with 60 banking centers, 24/7 live phone support, 71 ATMs, and lending offices in New Hampshire and Massachusetts. Camden National Bank was named one of two "Customer Experience Leaders in U.S. Retail Banking" by Greenwich Associates, and in 2019, it was the only New England based organization included in Sandler O'Neill's "Bank & Thrift Sm-All Star" list of high-performing financial institutions. The Finance Authority of Maine has awarded Camden National Bank as "Lender at Work for Maine" for nine years. Comprehensive wealth management, investment, and financial planning services are delivered by Camden National Wealth Management. To learn more, visit CamdenNational.com. Member FDIC.