Funding provides critical care and medical transport access to all Mainers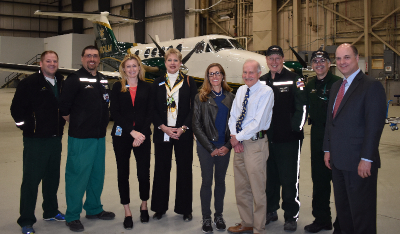 CAMDEN, Maine, May 2, 2017 – Camden National Bank announces $10,000 donation to LifeFlight of Maine's annual summer fundraiser, Islesboro Crossing for LifeFlight. The open water swim across Penobscot Bay raises funds to support LifeFlight's vision of providing critical care and medical transport to every person and every community across the state of Maine. 
"Maine is one of the most rural states in the country so it is essential to have services such as LifeFlight to provide critical care across every region of the state," said Greg Dufour, President and Chief Executive Officer of Camden National Bank. "Our footprint spans across many diverse areas of Maine, including the most rural areas and island communities. The speed and critical care that LifeFlight delivers is vital to the safety of our many customers, employees and the communities we serve. We are proud to support such an imperative program that impacts the well-being of all Mainers."
LifeFlight operates three helicopters and an airplane that cover the entire state of Maine, bringing specialized equipment and critical care nurses and paramedics to emergency scenes and small, rural hospitals from Fort Kent to Kittery. Based in Bangor at Eastern Maine Medical Center/Bangor International Airport, Lewiston at Central Maine Medical Center and Sanford at the Sanford Seacoast Regional Airport, LifeFlight's aircraft and crew have cared for more than 22,000 patients since operations began in 1998, providing access to the lifesaving care they need, when they need it.
"As LifeFlight continues to build a safe and reliable critical care transport system for the people of Maine, we depend on support from community partners like Camden National Bank," said LifeFlight Executive Director, Thomas Judge. "Over the next few years, we need to raise $8 million to help replace our two helicopters that have been in service since 2005. The new aircrafts will be equipped with next generation aviation technology, with an interior designed to accommodate medicine that is still on the horizon. The continuing support from Camden National is an essential piece of this major fundraising campaign, and we're incredibly grateful for this generous gift."
Now in its fifth year, Islesboro Crossing for LifeFlight is a 5K open water swim across Penobscot Bay from the Point Lookout Resort on the mainland to the island community of Islesboro. The event will take place on Saturday, August 19, 2017, and is expected to attract more than 400 swimmers, paddlers and volunteers from across the country and our local communities. The weekend long celebration includes a dinner reception, flyover from a LifeFlight helicopter and a hero's welcome for spectators and participants on Islesboro. 
About Camden National Bank
Camden National Corporation (NASDAQ:CAC), founded in 1875 and headquartered in Camden, Maine, is the largest publicly traded bank holding company in Northern New England with $3.9 billion in assets and nearly 650 employees. Camden National Bank, its subsidiary, is a full-service community bank that offers an array of consumer and business financial products and services, accompanied by the latest in digital banking technology to empower customers to bank the way they want. The Bank provides personalized service through a network of 60 banking centers, 76 ATMs, and lending offices in New Hampshire and Massachusetts, all complimented by 24/7 live phone support. Comprehensive wealth management, investment, and financial planning services are delivered by Camden National Wealth Management. To learn more, visit here. Member FDIC.
About LifeFlight 
LifeFlight of Maine is an independent 501(c)(3) non-profit air medical and critical care transport organization. LifeFlight brings lifesaving critical care staff and equipment directly to the patient by helicopter, airplane and ground ambulance. It also provides advanced emergency medical training to Maine's hospitals, emergency medical services (EMS) and public safety agencies. Overseen by 25 physicians, LifeFlight cared for nearly 1,800 critically ill and injured patients last year. Since its inception in 1998, LifeFlight has transported more than 22,000 patients from every hospital and nearly all of Maine's communities and islands.
###
Photo caption: LifeFlight crew members gave Camden National Bank employees a tour of the LifeFlight hangar at Bangor International Airport in April. From L to R: Chuck Hogan, Flight Nurse, Bangor Base Manager, LifeFlight; Brent Watson, Flight Nurse, LifeFlight; Jody Landrith, Banking Center Manager, Camden National Bank; Vera Roberts, Commercial Regional Manager, Camden National Bank; Amy Root, Director of Development, LifeFlight Foundation; Norm Dinerman, MD, Medical Director, LifeFlight; Hargrave Garrison, Fixed Wing Pilot, LifeFlight; Jim Gerry, Fixed Wing Pilot, LifeFlight; Greg Dufour, President & CEO, Camden National Bank.