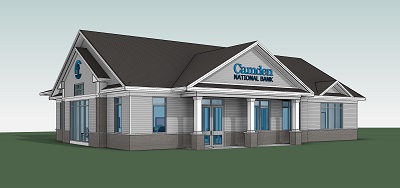 CAMDEN, ME, September 9, 2019 – Camden National Bank announced the start of construction on a 2,700 square-foot, state-of-the-art banking center at 435 Main Street in Damariscotta. The new location is scheduled to open in spring 2020* when the bank's Damariscotta staff and customers will transition to the new location just a mile down the road from their current space at 4 Coastal Market Drive.
"We are pleased to deepen our commitment to the Damariscotta community," said Greg Dufour President and CEO of Camden National Bank. "The open-concept design will blend technology with in-person guidance to reflect a modern, welcoming banking experience for all of the customers, families, businesses and nonprofits we support in the area."
Construction on the building is led by Commercial Properties, Inc. with architectural design by Gawron & Turgeon. The new high-tech, high-touch banking center will be located in the Camden National Bank Plaza, and it will include a drive-up window and ATM, plus convenient customer parking.
This spring, the bank plans to host a grand opening and ribbon cutting ceremony to celebrate with the Damariscotta community and surrounding areas. No interruption of service will take place for all who bank at the current Damariscotta location.
* Subject to regulatory approval

About Camden National Corporation
Camden National Corporation (NASDAQ:CAC), headquartered in Camden, Maine, is the largest publicly traded bank holding company in Northern New England with $4.4 billion in assets and nearly 650 employees. Camden National Bank, its subsidiary, is a full-service community bank founded in 1875 that offers an array of consumer and business financial products and services, accompanied by the latest in digital banking technology to empower customers to bank the way they want. The Bank provides personalized service through a network of 60 banking centers, 71 ATMs, and lending offices in New Hampshire and Massachusetts, all complemented by 24/7 live phone support. Greenwich Associates named Camden National Bank a 2018 Greenwich CX Leader in U.S. Retail Banking, a designation that recognizes top U.S. banks in customer experience. For nine years, Camden National Bank has received the "Lender at Work for Maine" Award from the Finance Authority of Maine. Comprehensive wealth management, investment and financial planning services are delivered by Camden National Wealth Management. To learn more, visit CamdenNational.com. Member FDIC.