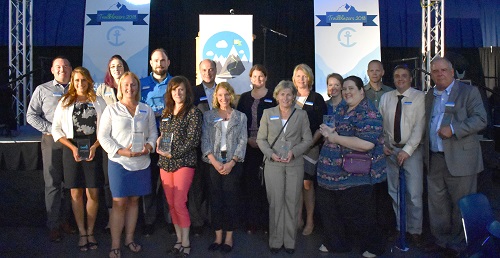 Camden, Maine, September 20, 2018
– On Monday, September 17th, Camden National Bank held its annual Employee Appreciation Event at the Augusta Civic Center. Over 500 employees traveled from as far north as Calais, Maine and as far south as Braintree, Massachusetts to attend. During the event, all employees were thanked and celebrated, and 15 outstanding employees received awards for their impressive commitment to Camden National Bank, customers, employees, shareholders and the community.
"Through a company-wide nomination process, we received countless stories of dedication and excellence," said Greg Dufour, President & CEO. "I'm incredibly proud of everyone's hard work and collective accomplishments, and I'm honored to recognize our 2018 award winners who have proven themselves to be inspiring leaders and change-makers at Camden National Bank."
Camden National Bank's 2018 Employee Appreciation Event had a "Trailblazers" theme to recognize innovation and success across the company. In October, the Bank will open its newest state-of-the-art banking center in Waterville as part of that community's revitalization. It has also invested in numerous digital products such as MortgageTouch® for faster home financing, TreasuryLink™ for better business cash management, and Pay Up for sending money to friends and family. Camden National Bank has also developed new and different ways to serve customers with 24/7 customer assistance and live chat in online and mobile banking.
"Since Camden National Bank first started with a $10,000 deposit in 1875, we've been proud to be leaders in community banking," continued Dufour. "Today, we call our innovative spirit the CamdenCircle, which is our company-wide ethos of harnessing feedback from customers and employees to drive better banking, smarter business and the best service possible, whether it's in person or online."
2018 Employee Award Winners:
Officer of the Year:
John Everett, Senior Vice President, Director of Commercial Banking for Southern Maine
Employee of the Year:
Marie Cudmore, Assistant Banking Center Manager, Kennebunk
Commitment to Core Values:
Tammy Sargent, Senior Relationship Banker, Milbridge
Kim Cullen, Senior Vice President, Director of Portfolio Management with Camden National Wealth Management

Commitment to the Community:
Chris Winters, Information Technology Systems Administrator
Chris Abbott, Retail Banking Officer & Banking Center Manager, York

Commitment to the Employee:
Kate Donohue, Senior Deposit & Payment Services Specialist
Angela Arbour, Vice President & Mortgage Banking Closing & Quality Control Manager

Commitment to the Shareholder:
Amanda Smith, Collections Specialist
Terri Tooley, Assistant Vice President Financial Reporting Officer

Commitment to the Customer:
Hannah Roy, Operations Specialist
Lisa Masters, Vice President, Camden Financial Consultants

Commitment to Internal Service:
Bonnie Blohm, Commercial Loan Administrator
Barry King, Vice President, Senior Credit Officer

Bob Daigle Award for Achievement through Innovation:
Nat Bell, Assistant Vice President, Senior Network Engineer
About Camden National Corporation
Camden National Corporation (NASDAQ:CAC), headquartered in Camden, Maine, is the largest publicly traded bank holding company in Northern New England with $4.2 billion in assets and nearly 650 employees. Camden National Bank, its subsidiary, is a full-service community bank founded in 1875 that offers an array of consumer and business financial products and services, accompanied by the latest in digital banking technology to empower customers to bank the way they want. The Bank provides personalized service through a network of 60 banking centers, 71 ATMs, and lending offices in New Hampshire and Massachusetts, all complemented by 24/7 live phone support. 2017 marks the 8th time Camden National Bank has received the "Lender at Work for Maine" Award from the Finance Authority of Maine. Comprehensive wealth management, investment and financial planning services are delivered by Camden National Wealth Management. To learn more, visit CamdenNational.com. Member FDIC.