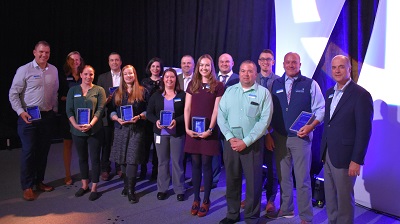 CAMDEN, ME, September 23, 2019 – On Thursday, September 19th, Camden National Bank held its annual Employee Appreciation Event at the Augusta Civic Center. Over 550 employees traveled from as far away as Calais, Maine and Braintree, Massachusetts to attend. Throughout the celebration, employees recognized each other for an incredible year and 14 outstanding employees received awards for their impressive commitment to Camden National Bank's customers, employees, and communities.
"I'm proud to share that we received a record number of employee nominations for our annual awards this year," said Greg Dufour, President & CEO. "The employee success stories and testimonials from the past year were truly inspiring. We've seen employees embrace all kinds of opportunities to grow, both professionally and personally, shaping our collective success and culture here at Camden National Bank. It was an honor to celebrate all together in Augusta for our annual recognition event." 
Camden National Bank's 2019 Employee Award Winners are:
Officer of the Year:
This is the most prestigious officer award, given to someone who demonstrates an impressive, outstanding commitment to Camden National Bank.
Mark O'Donal, Banking Center Manager, Camden Main Office
Employee of the Year:
This is the most prestigious award, given to an employee who demonstrates an impressive, outstanding commitment to Camden National Bank.

Luke Dean, Regional Operational Specialist, Bangor


CamdenCARE Award:
This award is given to employees who excel at building lasting, trusted relationships with customers to help them navigate their financial wellbeing with care.

Lauren Epstein, Sr. Trust Officer and Relationship Manager, Camden National Wealth Management
Carrie Bishop, Banking Center Manager, Bangor


Team Player Award:
Winners of this award are constantly impressing others with their dedication to making Camden National Bank an outstanding place to work.
Zachary Short, Credit Analyst, Bangor
Craig Day, Relationship Manager, Waterville
Elise Wallace, BSA Analyst, Rockport


Community Award:
The winners of this award embody the true spirit of giving back. They are passionate about serving community organizations and building meaningful community relationships.
Dan Swindler, Director of Support Services, Rockport
Gretchen Williams, PR & Communications Officer, Camden National Bank


Core Value Award:
These employees live and breathe our Core Values in all they do, acting as a strong sounding board and trusted allies for others.

Nychole Hare, Digital Banking Technician, Rockport
Brent Vicnaire, Banking Center Manager, Gardiner


CamdenCircle Award:
These award winners are outstanding advocate of our customer experience program, exploring new ideas, offering feedback, and helping deliver a better customer experience every day.
Laura Priestley, Customer Care Expert, Bangor
Chad Daley, Assistant Banking Center Manager, Portland


Bob Daigle Award for Achievement through Innovation:
This special award is given only in a year when an employee has made a significant contribution to positive change and innovative solutions at Camden National Bank.
Penelope Dougherty, Digital Banking Manager, Rockport



About Camden National Corporation
Camden National Corporation (NASDAQ:CAC), headquartered in Camden, Maine, is the largest publicly traded bank holding company in Northern New England with $4.4 billion in assets and nearly 650 employees. Camden National Bank, its subsidiary, is a full-service community bank founded in 1875 that offers an array of consumer and business financial products and services, accompanied by the latest in digital banking technology to empower customers to bank the way they want. The Bank provides personalized service through a network of 60 banking centers, 71 ATMs, and lending offices in New Hampshire and Massachusetts, all complemented by 24/7 live phone support. Greenwich Associates named Camden National Bank a 2018 Greenwich CX Leader in U.S. Retail Banking, a designation that recognizes top U.S. banks in customer experience. For nine years, Camden National Bank has received the "Lender at Work for Maine" Award from the Finance Authority of Maine. Comprehensive wealth management, investment and financial planning services are delivered by Camden National Wealth Management. To learn more, visit CamdenNational.com. Member FDIC.