Camden, Maine, September 25, 2020 – The week of September 21st, Camden National Bank celebrated a virtual Employee Appreciation event across more than 60 business locations. Throughout the week, the bank's 650 employees recognized each other for a fantastic year of hard work and dedication. On Wednesday, 13 employees received awards for their impressive commitment to Camden National Bank's customers, employees, and communities, and the bank also announced a $6,500 donation to six local food pantries on behalf of its employees.
"I'm incredibly proud of each and every one of our employees who have stepped up to serve our customers and support one another during this challenging and unprecedented year," said Greg Dufour, President & CEO of Camden National Bank. "It was an honor to look back at each department's accomplishments, as well as virtually celebrate our 2020 Commitment Award winners who embody the spirit, dedication, and creativity of our amazing team."
Camden National Bank's 2020 Employee Award Winners are: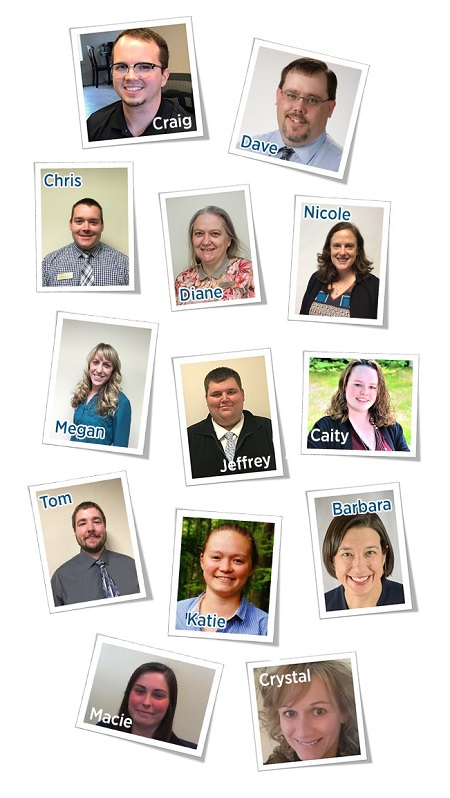 Officer of the Year:
This is the most prestigious officer award, given to someone who demonstrates an impressive, outstanding commitment to Camden National Bank.

Dave Ackley, Director of Information Security & Risk Management (Hanley Center)
Employee of the Year:
This is the most prestigious award, given to an employee who demonstrates an impressive, outstanding commitment to Camden National Bank

Craig Blackwell, Relationship Banker (Portland)
CamdenCARE Award:
This award is given to employees who excel at building lasting, trusted relationships with customers to help them navigate their financial wellbeing with care.

Macie Cote, Relationship Banker (Bangor Union St)
Crystal Spear, Banking Center Manager II (Waldoboro)
Team Player Award:
Winners of this award are constantly impressing others with their dedication to making Camden National Bank an outstanding place to work.

Megan McCullum, Mortgage Loan Processor III (Kennebunk)
Jeffrey Rhoads, Operations Specialist (Manchester)
Community Award:
The winners of this award embody the true spirit of giving back. They are passionate about serving community organizations and building meaningful community relationships.

Diane Marion, Sr. Deposit Services Specialist (Hanley Center)
Nicole Gogan, Treasury Management Sales Advisor (Main Office)
Core Values Award:
These employees live and breathe our Core Values in all they do, acting as a strong sounding board and trusted allies for others.

Caity Chubbuck, Customer Care Assistant Manager (Hanley Center)
Tom Mailloux, Senior Systems Engineer (Gardiner)

CamdenCircle Award:
These award winners are outstanding advocate of our customer experience program, exploring new ideas, offering feedback, and helping deliver a better customer experience every day.

Katie Dickinson, Digital Banking Systems Administrator (Hanley Center)
Barbara Raths, Treasury Management Sales Advisor II (Portland)

Bob Daigle Award for Achievement through Innovation:
This special award is given only in a year when an employee has made a significant contribution to positive change and innovative solutions at Camden National Bank.

Chris Winters, Information Technology Systems Administrator

About Camden National Bank
Camden National Corporation (NASDAQ:CAC) is the largest publicly traded bank holding company in Northern New England with $5.0 billion in assets and 650 employees. Camden National Bank, its subsidiary, is a full-service community bank founded in 1875 in Camden, Maine. Dedicated to customers at every stage of their financial journey, the bank offers the latest in digital banking, complemented by personalized service with 58 banking centers, 24/7 live phone support, 68 ATMs, and additional lending offices in New Hampshire and Massachusetts. For the past two years, Camden National Bank was named "Customer Experience Leader in U.S. Retail Banking" by Greenwich Associates, and in 2019, it was the only New England based organization included in Sandler O'Neill's "Bank and Thrift Sm-All Star" list of high-performing financial institutions. The Finance Authority of Maine has awarded Camden National Bank as "Lender at Work for Maine" for ten years. Comprehensive wealth management, investment and financial planning services are delivered by Camden National Wealth Management. To learn more, visit CamdenNational.com. Member FDIC.