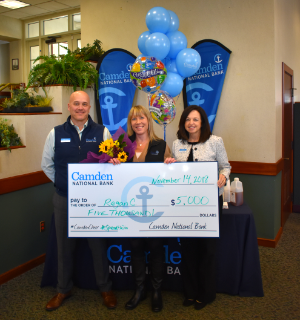 Camden, ME, November 21, 2018 – Camden National Bank recently announced the Grand Prize winner of its eight-week fall sweepstakes, Spend & Win. Regan Cahalan won $5,000 for using her debit card for everyday purchases throughout the promotional period, and she celebrated her win in November with the Camden Main Office banking center.
"I had just been dreaming of going home for the holidays to see my family in Charleston, SC; but I had no idea how I'd be able to make it happen," said Regan. "Now I can book my tickets without a worry. That's truly the best gift ever!" Regan was incredibly surprised and grateful for the prize from her community bank.
Over the course of the two-month sweepstakes, Camden National Bank awarded 40 other customers with $100 each, totaling over $8,000 in prizes. The other winning customers ranged from 18 to 73 years old and were living across Maine and as far away as Arkansas.
"This is our second sweepstakes of 2018, and we've been delighted to reward over 80 loyal customers who used their Camden National Bank debit card," said Renée Smyth, Chief Experience & Marketing Officer at Camden National Bank. "This was a perfect time of year to celebrate a $5,000 give-away—it is heart-warming to know we were able to pay for Regan's flight home for the holidays."
Camden National Bank offers a comprehensive array of financial products and services, complemented by personal service and the latest in digital banking technology. Their unique checking account offerings are especially known for providing cash-back rewards to customers on debit card purchases.
About Camden National Corporation
Camden National Corporation (NASDAQ:CAC), headquartered in Camden, Maine, is the largest publicly traded bank holding company in Northern New England with $4.2 billion in assets and nearly 650 employees. Camden National Bank, its subsidiary, is a full-service community bank founded in 1875 that offers an array of consumer and business financial products and services, accompanied by the latest in digital banking technology to empower customers to bank the way they want. The Bank provides personalized service through a network of 60 banking centers, 71 ATMs, and lending offices in New Hampshire and Massachusetts, all complemented by 24/7 live phone support. Greenwich Associates named Camden National Bank a 2018 Greenwich CX Leader in U.S. Retail Banking, a designation that recognizes top U.S. banks in customer experience. In 2018, Camden National Bank received the "Lender at Work for Maine" Award from the Finance Authority of Maine. Comprehensive wealth management, investment and financial planning services are delivered by Camden National Wealth Management. To learn more, visit CamdenNational.com. Member FDIC.